Fall Inspired Nail Colors & Nail Art for Beautiful Nails
October 13 2021
It's here! Time to break out your fall wardrobe with all your fabulous sweaters, boots, and beautiful autumn colors. There's nothing better to help get you in the spirit of the season than pampering yourself to a wonderful Shellac Manicure and Hot Stone manicure. Afterward, embrace these fall-inspired colors and designs to show off your nails.
Ordinarily, we see a lot of nail colors in earthy browns, burnt orange, and brick red. Those are certainly tried and true colors for the season, but nothing about 2021 has been ordinary. We're also seeing some more adventurous trends with nail art, design, and colors. 
Pretty Quilt Patchwork. Rules are out the window this season and this design is hot. Pick any combination of six fall-like colors that you love best and let our expert nail technicians do the rest by creating quilt-like blocks with a very fine brush. This blocky look with quilt-like vibes will show off your new manicure in style. For a little fun, switch up the block of color on each finger to add extra attention and style. 
Brown Radiance. Want to keep it neutral but with some sparkle? Choose a taupe or tan brown and have your technician add a little glitz with silver glitter on select nails at the base of the cuticle. It keeps your nails looking classy for the office but gives a fun and flirty vibe. 
Fall-styled French tips. French tips are heating back up with a flair this season. Instead of traditional white tips, we're seeing tips with glitter, metallics, and fun fall colors. Another trending look is with black tips with a small line of silver metallic at the very end. The sky is the limit so have some fun!
Plaid Tips. Plaids never go out of style and this year we're seeing it on nails by embracing a French manicure with plaid tips. Warm shades of brown with intricate plaid stripes in simple black and white, or fun and playful reds, oranges, or greens will definitely show off your nails this season.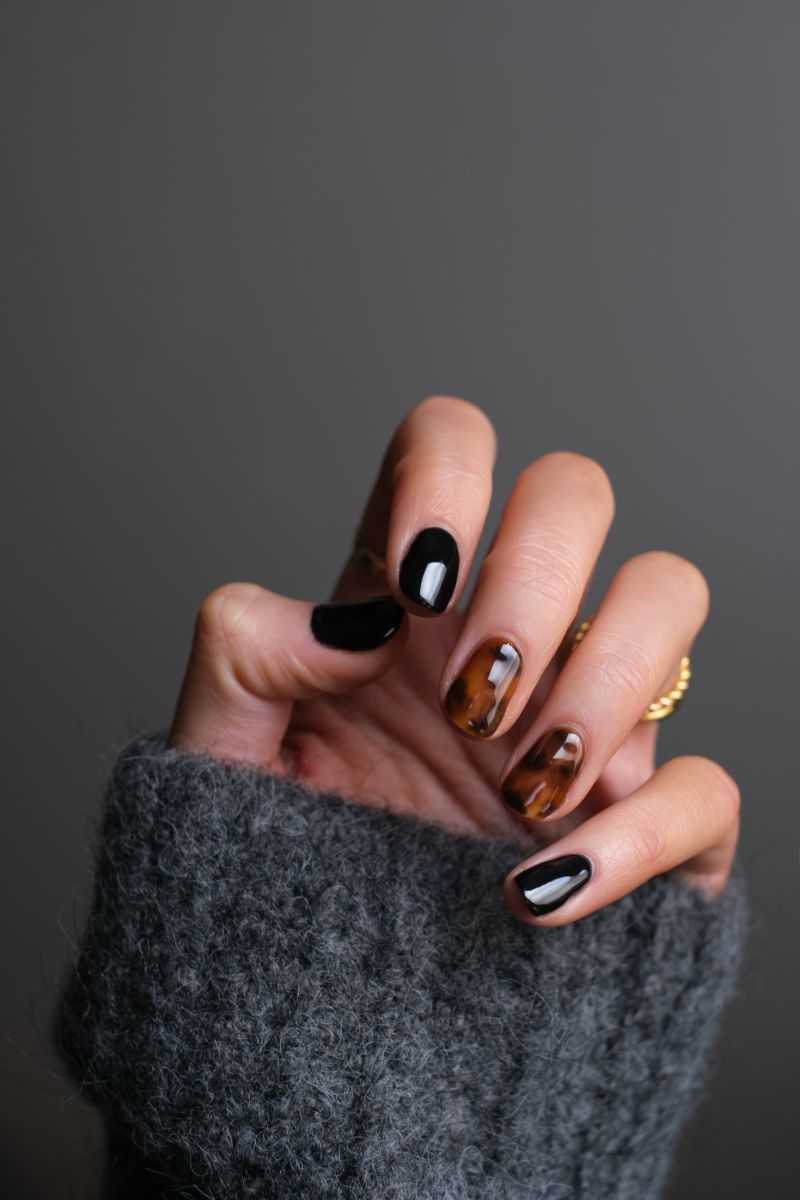 Tortoiseshell. This abstract pattern is a year-round classic. With an autumn color scheme and timeless vibe, it's gaining popularity this season for a chic, perfect for the office, look. Enjoy all your nails with a tortoiseshell finish or highlight key nails and use black for the rest, the choice is yours. 
Ombre. The ombre look has been hot for a while with both nails and hair. However, the nails are toning down from the bright, flirty colors of summer to a more fall-like color scheme of dark denim blue to light blue, emerald green to a moss, tiger orange to black, and burgundy to pink. 
Pearl with Glitter. Talking about glitter, this look is definitely on the list for hot nail styles this fall. Choose a pearlized shade and top it off with matching glitter. It's the glimmer and shine that makes this a top pick, so pick whatever colored pearl finish you like! Want to really glitz it up? Add a couple of gems to key nails. 
Holographic Jewel Tones. Think royalty with a twist. The holographic sheen is a favorite but this season we're seeing it on the deep jewel tones like bronze, royal teal, and deep eggplant. 
Make an appointment today for a relaxing manicure and pedicure at Parisian Salon & Day Spa and show off your nails this season. You can find us at 9 Berlin Road in Cromwell, CT, or call 860-632-2144 to schedule your appointment. You can also schedule appointments, purchase gift cards, and more on our mobile app, available on iTunes or Google Play. We bring the fabulous Paris experience right to you for hair, makeup, massage, and much more.